Visual Jobs Scheduler (VJS) is an extension that fully integrates with Dynamics 365 Business Central's task and resource scheduling modules. VJS provides the user with an interactive projecting and scheduling, and enables easy and intuitive planning of work, tasks, work scheduling lines and resources by drag-and-drop. The extension is based on the standard functionality of Dynamics 365 Business Central and can be installed without changing the existing facility.
VJS provides operational flexibility by transforming all project related data in tables into an interactive Gantt chart
Visual Jobs Scheduler
See
The Tasks module "bury" data in a deep table hierarchy: tasks, tasks, work scheduling lines, and resource allocations. You can see all this data with one glance. All of this is presented in the natural way you look at your projects: as a Gantt Chart Project Plan and Resource Gantt Chart.
Understand
Transparently seeing all project and resource related data is a necessary first step to fully understanding the project plan and resource situation. With VJS, you will quickly understand dependencies, scheduling conflicts, and any unwanted issues.
Act
With the timetable fully understood, the groundwork for action was prepared. Visual Jobs Scheduler allows you to easily customize your schedule by dragging and dropping. This includes task scheduling and scheduling lines, their duration, allocation of scheduling lines to resources, and much more.
Main advantages of VJP
Easy to implement
Intuitive interface
Seamless integration with BC
Instant data visualization
Conscious decision making
Comprehensive navigation options
The main functionalities of the VJP solution
Integration with task and resource modules
Filtering options
Visual alerts
Ability to drag and drop changes
Automatic planning of successors and predecessors
Possibility of combining work planning lines
Work view
Visualization of jobs, tasks, resources and work planning lines
"Drag and drop" job scheduling lines to change deadlines
Visual alerts for delayed work scheduling lines
Easily connect and divide work planning lines
Resources view
Visualization of work planning lines assigned to resources
Reassign work scheduling lines to different resources
Detecting bottlenecks
Visual alerts for excess capacity
Understanding all dependencies
What visual job scheduling offers?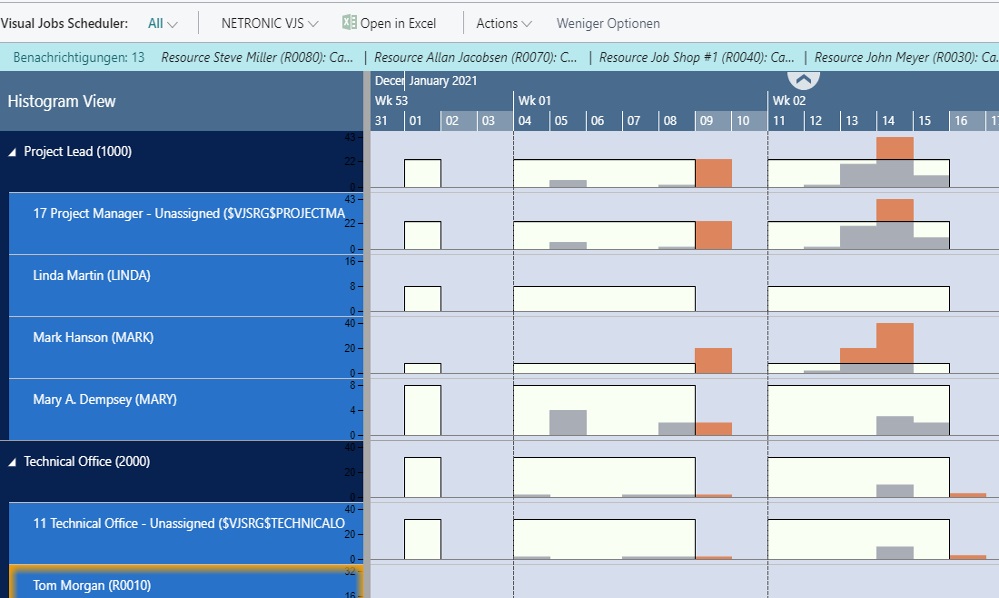 Drag-and-drop scheduling of tasks, scheduling lines and resources
Visually plan jobs, tasks and job planning lines, and resources with simple mouse actions such as drag and drop. VJS supports both horizontal movements (ie Modification of start and end dates) and vertical changes (ie Modification of resource allocation). At the same time, you can implement and visualize job dependencies at work through simple interactions.
Lots of help functions for quick navigation
The visual task viewer offers many options that make navigating the scheduling board very easy. You can jump to the timeline with one click, enlarge the period with the mouse wheel, return to the starting position and much more.
Create new lines of work planning in an interactive way
"Build Mode" VJS shows you a list of your resources (in task view) or a list of all your tasks, work schedule lines and tasks (in resource view), so you can interactively assign a resource to a task or a work to a resource by dragging them from the list onto the chart.
Understand the resource workload, not just the project structure
Visual Jobs Scheduler is not just the interactive Gantt chart you might know from other project management solutions. The solution shows job positions, job positions and job planning lines in terms of time and their allocation to individual resources. Additionally, it shows the appropriate use of resources. If moving a job causes an overload, a visual warning will be displayed so you can respond immediately. Of course, this happens in real time.
Full integration with Microsoft Dynamics 365 Business Central
VJS fully integrates with Dynamics 365 Business Central. It connects directly to its database, requiring no other implementation. This tight integration brings several benefits to users:
They don't have to learn a new user interface
They can continue to work in their standard ERP environment
They get a few shortcuts from a visual planning extension to an ERP system: Eg Double-clicking a job opens the corresponding job card