Manage production and improve its efficiency!
Your company manufactures products in a process, discreet or mixed way. Regardless of the type of manufacturing, it is important to maintain a high level of productivity, a low level of own costs and constantly develop.
What is ERP – a company management system
To ensure the high quality of your products, it is worth implementing a business management system – ERP system. Such a system allows you to manage every aspect of the company, as well as automate and improve processes. ERP also allows you to reduce production times. It also enables optimal use of resources. In addition, the use of the system allows you to ensure the competitiveness of your offer and products.
Advantages of the ERP system in sales and distribution
Accurate knowledge of orders
You will gain accurate knowledge about all conducted orders, manage the service better, save time, and above all – you will save money!
One tool for all processes
One tool will handle all processes in your company, thanks to integration with the areas of accounting and finance.
Improving production efficiency
Properly selected and configured ERP system will not only support the entire process of your production (from contact with the customer, through the manufacture to issuing the invoice), but will also improve its real efficiency, improve the company's financial results and allow shortening the time of processing and settling orders. All of this will make your business grow and become more competitive.
Improved calculation and bidding
The ERP system will allow you to run calculations and bidding, realize of all logistics and warehouse processes. ERP will facilitate planning, managing and manufacturing. It will also support contact with customer, sales and invoicing process.

Resource registration and desired production quality
The system registers resources used in manufacturing process, such as parts, machines, operations and personnel. It allows to define, configurate and register all operations. Thanks to versioning and content updating the system makes it easier to maintain production structures. ERP supports production planning that the goods are always produced on time and in the desired quality. Production is registered in the system to ensure traceability under the factors of production, which is the basis for invoicing.
Cost monitoring
ERP also monitors the costs of goods and resource consumption, enabling accurate total cost estimation. It also handles deviations and supports the administration of documentation, including operating instructions, product and measurement certificates.
Easier to run your business
Thanks to ERP system running the enterprise is getting simple and available. You can use offered solutions from every place on earth, you only need internet access. The system not only stores information about the company's activities, it allows integration with external software, Business Intelligence (BI), portals and websites, Internet of things (IoT), etc. All this is available thanks to the API technology used in the system.
Are you considering buying an ERP system? Contact us and find out which system will be the best for your company
Visual production scheduling
Manufacturing is a complex process in which the right combination of all elements is the key to success. The management system allows you to maximize the use of resources and optimize production time and costs. Production management support could be even better. The drag-and-drop tools that allow for visual production planning come in handy. The use of Gantt charts provided by Netronic facilitates the management of all tasks. It shows the distribution of tasks over time, their duration or the number of tasks performed in parallel.
Production – extended visual scheduling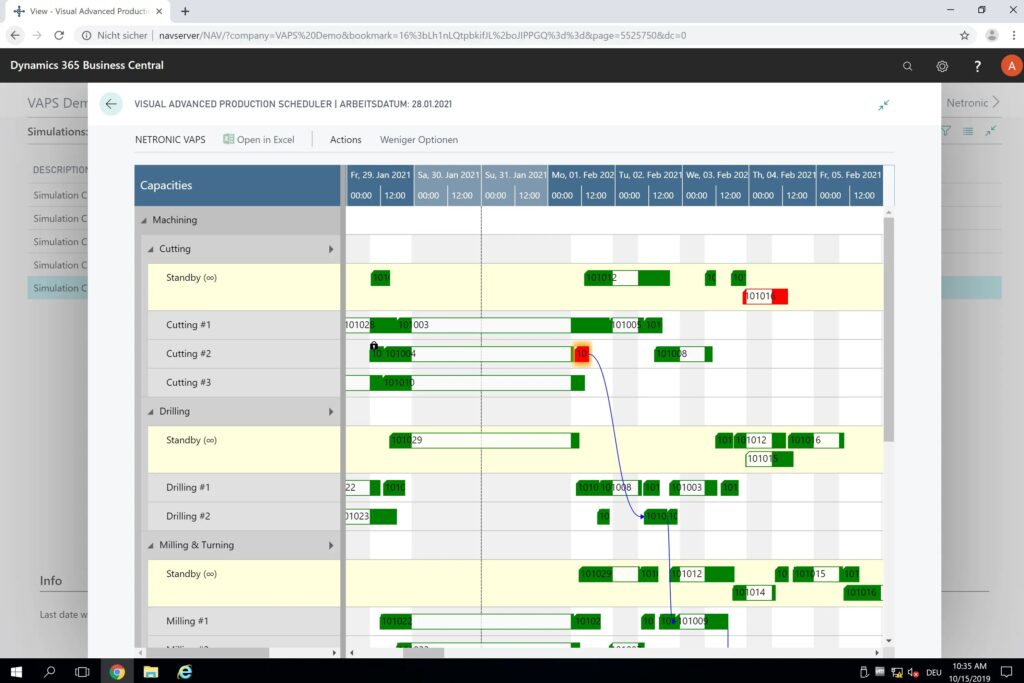 Managing in production can be enriched with additional solutions. Thanks to solutions from Netronic, you can streamline work planning and scheduling. Netronic offers two modules for visual production scheduling. Basic module VPS and VAPS, which is an advanced solution.
The VPS module from Netronic allows intensive planning by drag-and-drop for the standard production module. Visual Production Scheduler – VPS – is an interactive scheduling board that visualizes production orders, production order lines, production order route lines, work centers, machine centers, production capacities and shift calendars.
Visual Advanced Production Scheduler, VAPS, is an extension for manufacturers who require more advanced scheduling capabilities than the standard VPS solution.
Graphical advanced VAPS production schedule from Netronic includes

interactive forward planning
alternative machine centers (including production rates for uptime and setup)
availability of materials at the production order level
(virtual) readiness resources in each work center
create multiple schedule simulations and publish the best in Business Central
Why is it worth expanding the production support system with the Netronic tool?
Transparency gives control. Thanks to production scheduling and resource utilization, it is easier to locate bottlenecks, problems, and dependencies. Obstacles are immediately visible. This transparency puts you in control of the plan – even in the event of unforeseen events.
More control means less firefighting. The appropriate level of (automatic) control over the implementation of the plan means that you do not have to spend so much time on everyday processes and problems. You no longer need to react, but actively control your plan and production.
Better decisions. Thanks to Netronic, decisions are made with greater certainty. The solution enables faster identification of bottlenecks. Make better use of resources. Provide customers with more accurate information on delivery times. Meet your deadlines consistently. Make better decisions with a tool that will allow you to concentrate on your work.