Power BI allows you to connect to data regardless of where they are stored. However, the tool not only facilitates access, but allows you to create stunning and interactive visualizations.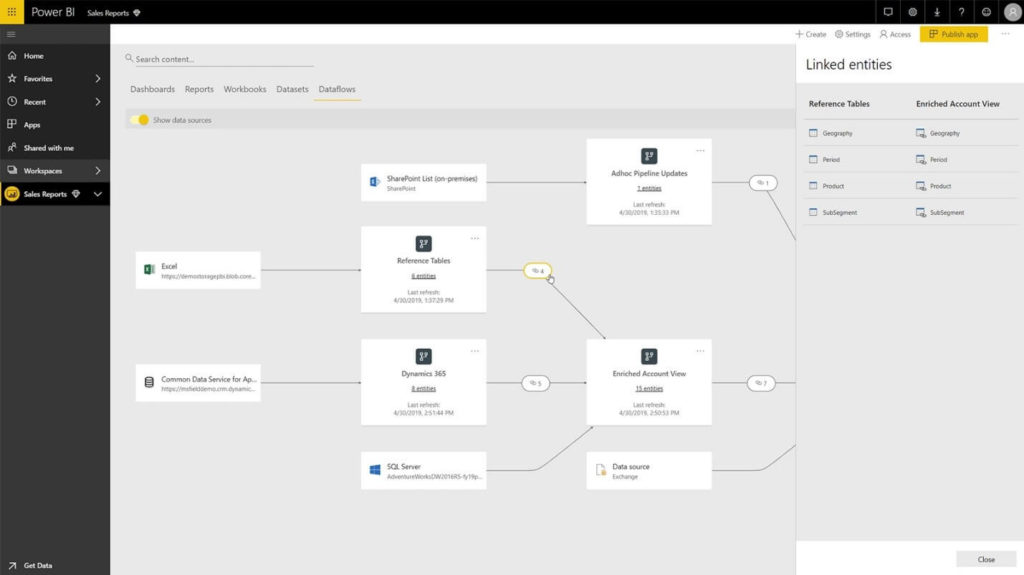 You can go from data to detailed information in minutes using Power BI Desktop.
Connect to hundreds of data sources – locally and in the cloud.
Use Power Query addition to simplify data acquisition, transformation, integration and enrichment.
Createreports using built-in visualizations or create your own custom visualizations.
Data connection regardless of where it is stored
Get access to data from hundreds of supported local data sources and cloud sources such as Dynamics 365, Salesforce, Azure SQL DB, Excel and SharePoint. Keep them up to date with automatic incremental refresh. Power BI Desktop allows you to obtain detailed information with the ability to perform actions in a wide range of scenarios.
Easy data preparation and modeling
Save time and facilitate data preparation using data modeling tools. Save hours during the day with the self-service Power Query environment known to millions of Excel users. Acquire, transform, integrate and enrich data in the Power BI service.
Advanced analysis thanks to the knowledge of the Office package
Analyze the data in detail and find patterns that could go unnoticed, leading to detailed information with the ability to perform actions. Use features such as quick measures, grouping, forecasting and clustering. Advanced users can fully control the models thanks to the advanced DAX formula language. If you know the Office package, you will feel at home in the Power BI service.
In-depth insight into data thanks to extended analysis based on AI technology
Explore data, automatically find patterns, understand the importance of data and predict future results to improve business results. New artificial intelligence capabilities - first introduced on Azure and now available in the Power BI service - do not require code writing, so all Power BI users can see hidden detailed information with the ability to take action and get more strategic business results.
Interactive reports tailored to the needs of the company
Create interesting reports containing interactive data visualizations. Tell your data history with a "drag and drop" canvas and hundreds of modern data visualizations from Microsoft and its partners - or create your own visualization using the open source custom visualization platform in the Power BI service. Design your own report for using themes, formatting, and layout tools.
Create for everyone and anywhere
Provide visual analysis to users who need it. Create reports optimized for mobile devices for users viewing them while remote working. Publish from Power BI Desktop to the cloud or local environment. Embed reports created in Power BI Desktop into existing applications or websites.