During the Ignite conference, Microsoft showed new solutions and product innovations in Dynamics 365 Customer Service and Field Service. They support customer service actions and management. Solutions enable businesses to provide seamless, end-to-end technical support. Moreover, they allow you to discover the benefits of a streamlined organization of services. This is possible thanks to the installation on one platform.
Customer experience
Customer experience is the sum of all interactions between the customer and the supplier over the lifetime of their relationship. It's very important to remember this. If we want to provide high-quality customer service, we need to care for the customer's experience from the first contact to maintaining the after-sales actions.
Customer approach. How to get it right?
Select the appropriate channels
Offer proactive services
Work with the customer according to the principle "get to know me, serve me"
Provide transparency in the process and build trust
Microsoft provides a range of solutions to enable you to provide world-class customer service. Among the supporting tools are:
Customer Service
Customer Voice
Field Service
Customer Service Insights
Remote Assist
Virtual Agents
With Microsoft, you can ensure end-to-end customer engagement. The solutions support two main areas of activity.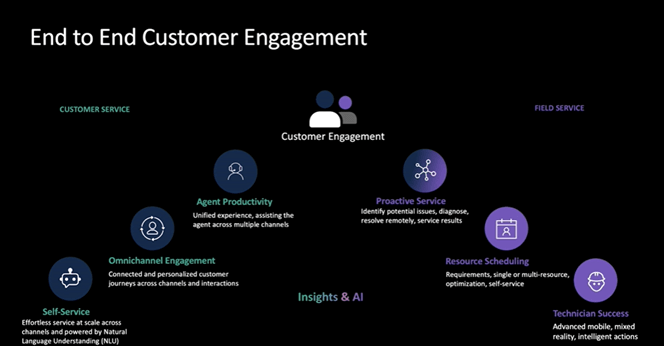 Customer Service
Self-service. This is hassle-free, large-scale customer service across multiple channels. It is based on the Natural Language Understanding (NLA) that customers use.
Omnichannel engagement. This gives you a connected and personalized customer view across all channels and interactions.
Agent productivity. The system allows for a standardized service and agent assistance in many channels.
Field Service
Proactive service. It allows you to identify potential problems, as well as diagnose and solve them remotely. The system also communicates the service results.
Resource Planning. You can easily plan requirements, single or multiple resources. The system also helps to optimize resources and conduct self-service activities
Technician success. Advanced mobile solutions, mixed reality and intelligent operation help technicians and field workers to best serve their customers
Dynamics 365 enables the crossing of the above channels, ensuring the best quality of service.
Microsoft has, supports, and integrates a number of applications that improve contact with the customer. These are among others:
Live chat
SMS
Line
WeChat
Facebook
Twitter
WhatsApp
BYOC
This year, Microsoft also introduced a new Voice Channel.
Native Voice in Dynamics 365 is primarily a comprehensive (all-in-one) solution for customer service. It is entirely made by Microsoft and based on the cloud. Provides hassle-free customer support in every channel. In addition, it provides real omnichannel analyzes and insights.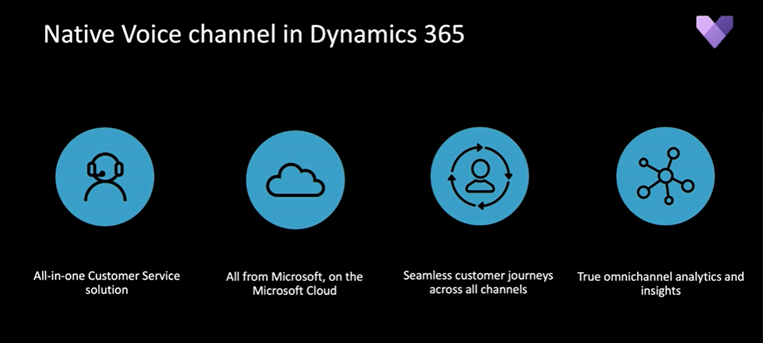 Facilitated contact with the customer is also possible thanks to the function that allows you to make calls directly from the browser. What's more, it saves live conversation transcripts. It shows live suggestions for answers, analyzes customer needs live and proposes the best solutions.
Dynamics 365 analyzes data from all contact channels, including voice. Among other, thanks to this, it increasingly improves the virtual agent.
All-in-one customer service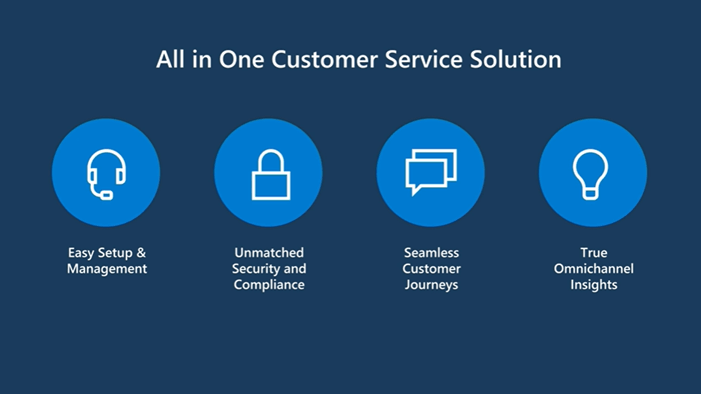 Microsoft Customer Service is a comprehensive support for your company. But what does that actually mean? The solution is primarily:
Easy setup and configuration and management
Unmatched security and compliance
Seamless customer journey
Real omnichannel results
Dynamics 365 Remote Assist
Remote Assist supports your company's employees in their field tasks. It allows you to capture resources and automate processes using the Power Platform. The solution stores mixed reality photos and videos, and then integrates the data with business processes using Power Automate. Additionally, it offers a calls dashboards. Dashboards allow you to use data about your company for remote support and improvement of operations. Remote Assist also offers a one-time call solution that allows an employee in the field to get assistance with one click.
Dynamics 365 Field Service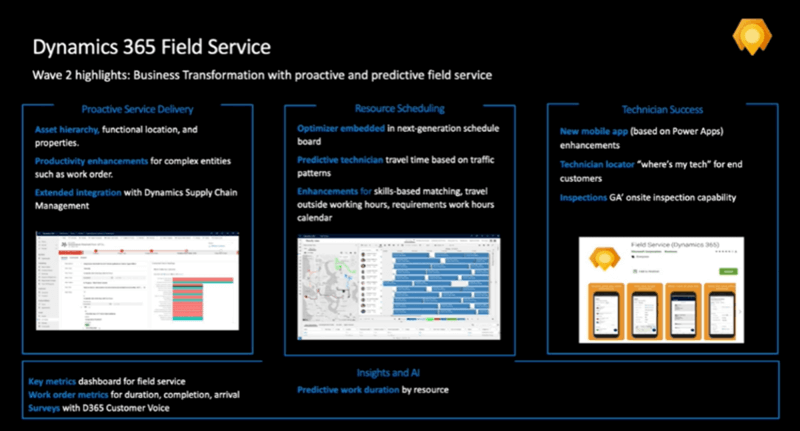 Field Service supports your company in three areas.
Proactive service delivery. It allows you to create a hierarchy of resources, functional locations and properties. The solution also offers productivity improvements for complex units such as work orders. Moreover, it allows for extended integration with Dynamics Supply Chain Management.

Resource Planning. Microsoft offers an optimizer built into the next-generation schedule board. Your technicians can predict travel times based on traffic patterns. You also get upgrades for matching skills, out-of-hours travel, and working hours calendar as required.

Technicians success. Microsoft is releasing new mobile app enhancements (based on Power Apps). It also offers access to a technician locator "where's my technician" for end customers. Moreover, you get the opportunity to conduct on-site inspections.
All these areas are supported by Microsoft Insights and artificial intelligence.
Microsoft is constantly developing
Microsoft is constantly developing tools to support customer service. Nowadays, it is particularly important that your company can contact the customer using multiple channels. Also, the non-contact ones. Microsoft and its solutions facilitate such interactions.