ERP system – what is it? – Sylwia Wójcik
General Manager
We have prepared in a nutshell information on "ERP System-what is it". ERP shortcut appears more and more often in many materials and sources. We present the most important information about what ERP is.
ERP shortcut stands for Enterprise Resource Planning. But now it is a lot more than just a system for enterprise resource planning. The ERP system is a solution that consists of a number of modules, covering the entire activity of enterprises with a centralized database.
What does it mean in practice?
The ERP system is designed to support business management and simplify work. It also facilitates cooperation and information exchange between the various departments in the company. The ERP system collects data from the entire company in one place, making it easier to perform operations on them.
Why working on one database is so important? ERP System integrates date from all supported departments. As a result, all people working with data always have the same access to data, which is available in one format and always up-to-date. They can easily analyze and create reports. The data collected in the system allows not only to determine what was and is, but also what will be, because many ERP systems also offer forecasting.
What ERP system gives?
ERP system allows you to:
organize processes,
improve and optimalize work,
plan your work better (e.g. orders or manufacturing)
prevent multiple entries of data or performing the same activities
reduce numer of errors
improve customer service quality
improve accounting and finances
meet accounting, tax and legal requirements
All this also increases control over processes, and thus over the entire company.
Modern ERP systems offer many possibilities to increase the comfort of everyday work:
easy access from various devices: web browser, tablet, data collector, telephone, industrial touch panel – with a view adapted to these devices
integration with Office: easy sending of e-mails, access to data from the level of e-mails, export and import from Excel
scanning and recognition of documents
work in many languages.
What is the structure of an ERP system?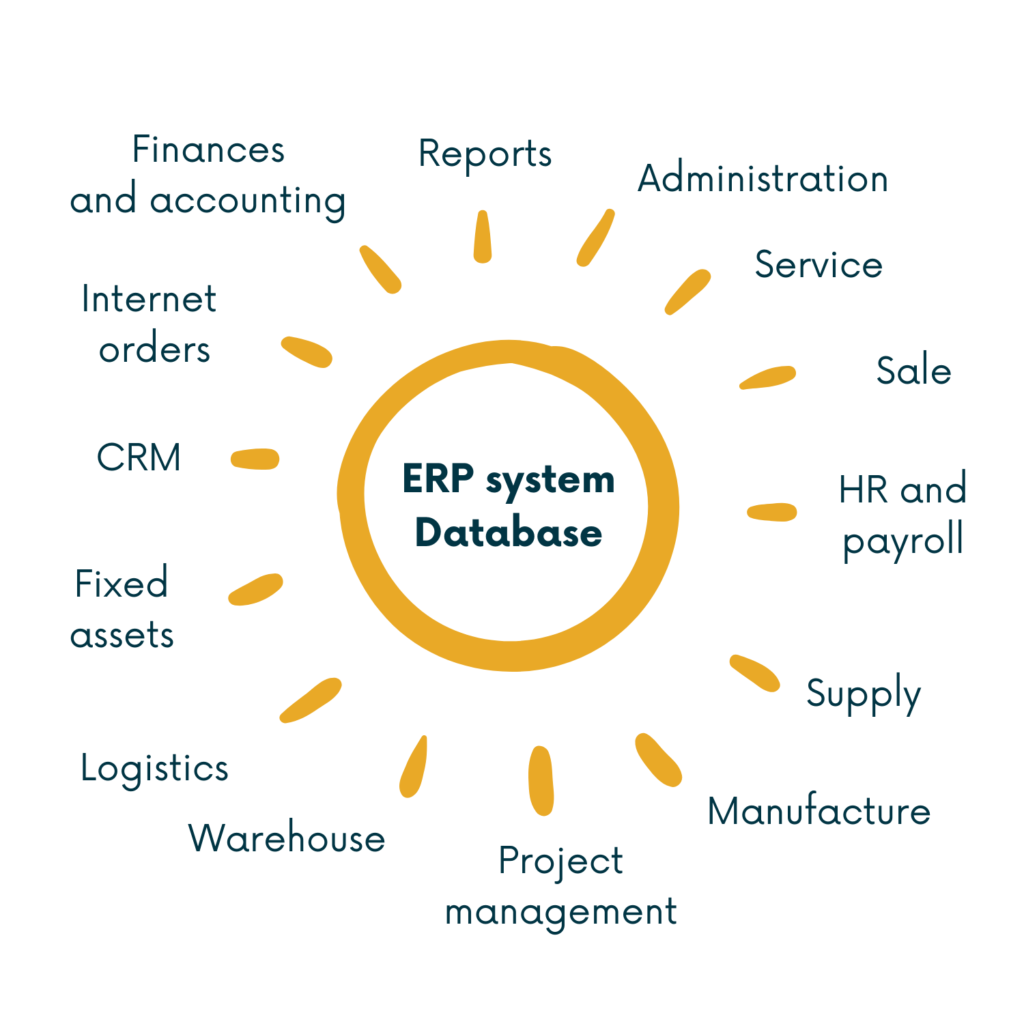 The ERP system is a series of minor modules covering individual areas of the company (manufacturing, trade, logistics, warehouse, finance and accounting, HR and payroll, marketing, services, etc.) based on one common database. Such a structure makes the ERP system effective in collecting data, organizing and integrating all areas of the company's operation.
ERP system – where did it come from?
ERP systems in their original version were responsible for material inventory management. Next, their use extended to the organization of production. Currently, however, systems help to manage all processes in the company. So, you do not have to be a production company to benefit from the installation of an ERP system.
What ERP systems are available on the market?
Currently, a number of ERP systems are available on the market. From small solutions, through systems dedicated to a specific industry – such as RamBase for manufacturing, to systems with a wide range of applications, such as Dynamics 365 or NetSuite.
ERP systems also differ in the method of installation. There are three models for installing the system:
in the cloud
on premise – installation on the company's servers
hybride – combination of local installation with cloud functionalities
If you are considering implementing an ERP system in your company, read: