Success of ERP implementation – how to plan and achieve it? – Guus Krabbenborg
Dynamics and More
It is not without reason that the implementations of ERP systems arouse a lot of emotions. Many people are involved in them and they require financial effort. They are also often associated with risks. Additionally, it is not that easy (and cheap) to change an already implemented system. The success of ERP implementation also depends on communication with employees and potential system suppliers. It is thanks to good communication that we are able to convey what we care about.
In my experience, companies have a problem with defining the goals of what they want to achieve. Over 90% of all companies involved in ERP projects have the meeting deadlines and budget et as final goals. Many people have completed at least one project with such a goal.
Success of ERP implementation – define goals
It is worth to consider the definition of the project goal. How to plan it to achieve ERP implementation success? Spending money just to earn money later doesn't seem like a good goal. We are always satisfied when, after implementation, it turns out that we are within the budget. But is this a good indicator of success? Does it say that the project was successful? I do not think so. Just as staying within budget alone says nothing about whether you have successfully modernized your business processes. We also do not know if we have become more attractive partners for our customers. Additionally, often not all employees know the project budget. It is all the more difficult to motivate them.
What I presented above, the availability of time and financial resources, should only be resources. Assets for achieving ERP implementation success. Not goals in themselves.
What to do in order not to make a mistake?
What to do in order not to make a mistake in setting goals? Combine them with your overall business strategy! It doesn't matter if the project is a new implementation or just an update. Business strategy typically focuses on business growth, profitability, customer focus and compliance. If you combine goals with it, you will gain a lot. The most important advantage is that your project is no longer an isolated, independent operation. It will become part of the whole. Additionally, since all employees know the strategy, they understand well the goals you want to achieve. This makes them more involved and it is easier for you to get support. If your project focuses on business goals, it's easier to get management support too!
ERP is a part of company's ecosystem
Another advantage of linking goals to the strategy is its duration. Contrary to time and budget oriented goals, your activities won't be complete on the day the system goes live. Since it is embedded in your business goals, it will remain relevant for a long time! It won't be just a side IT project and will become part of the company's ecosystem. This is what ERP implementation success means!
By correctly defining what your ERP implementation success looks like, you will take an important first step towards achieving it!
Read also:
Author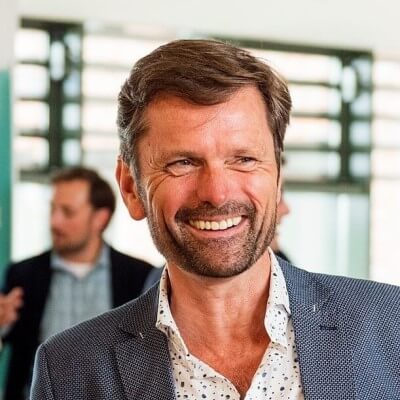 Guus Krabbenborg – co-founder and co-owner of QBS Group, the successful Value Add SMB Distributor for Dynamics partners in the EMEA region. He also started a new company "Dynamics and More". This company supports Microsoft Dynamics customers and partners.
Guus Krabbenborg is a highly-experienced business trainer and consultant with a well-earned reputation in the international Microsoft Dynamics arena. He is a frequent speaker at various Microsoft events. His approach is perceived by both customers and partners as inspiring, creative and provocative – but always entertaining.