Customers are looking for devices, insights and actions to help them meet their most pressing challenges. Azure IoT makes it possible.
Microsoft's solutions help simplify the development of safe and reliable IoT solutions. It's all thanks to managed apps and a flexible app platform that enable the complete IoT ecosystem to achieve business goals faster. Achieving goals is possible through connectivity, constant invitation, trust, and scaling.
IoT, or the Internet of Things, drives transformation everywhere. Moreover, the use of IoT opens the way to return to the workplace. It can be concluded that IoT is an endless list of advantages.
Azure IoT is everything
The Vice President of Microsoft's Worldwide Internet of Things and Mixed Reality Sales said, "IoT is everything." Especially in the context of returning to the workplace. But what does that actually mean?
Prevent – Deploy technologies to monitor and detect unsafe condition and activities.
Respond – Collaborate with medical communities and providers to support health directives.
Recover – Confidently reopen with technologies and workflows to protect workers and the public.
Rebuild – Invest in transformative solutions that increase efficiencies and maximize capabilities.
Data security, also in the field of IoT, is crucial both for application users and their customers. As many as 97% of people have security concerns when implementing IoT.
Rodney Clark, however, dispels concerns about Microsoft's IoT security. Azure Security Center for IoT is unified security management and enables end-to-end threat detection and analytics.
Azure Security Center for IoT simplifies hybrid protection with unified visibility and control, adaptive threat prevention, and intelligent threat detection and response across edge, on-premises, Azure and other cloud workloads.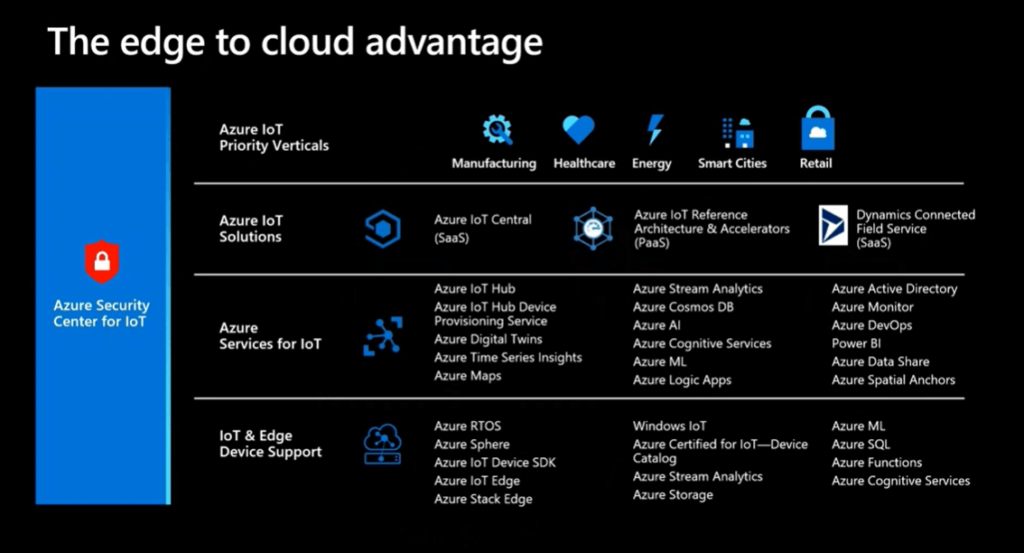 Azure Security Center is:
Unified visibility and control.
Adaptive Threat Prevention.
Importantly, Rodney Clark points out that 85% of IoT decision makers believe IoT solutions are critical to the continued success of their business.