Stylish, elegant and furnished apartments for rent
VISIONAPARTMENTS offers luxurious apartments for rent. The company in its portfolio offers properties in over 130 000 localizations and 850 places. The company by its own have over 1800 apartments for rent in Zurich, Berlin, Lozano, Vienna, Frankfurt, Zug, Vevey, Lucerne and Warsaw. Soon in offer there will be new properties in Geneva, Zurich, Glattbrugg, Lugano and Basel. VISIONAPARTMENTS offer includes not only the rental of apartments, but also full furniture, equipment and housing services at the customer's request.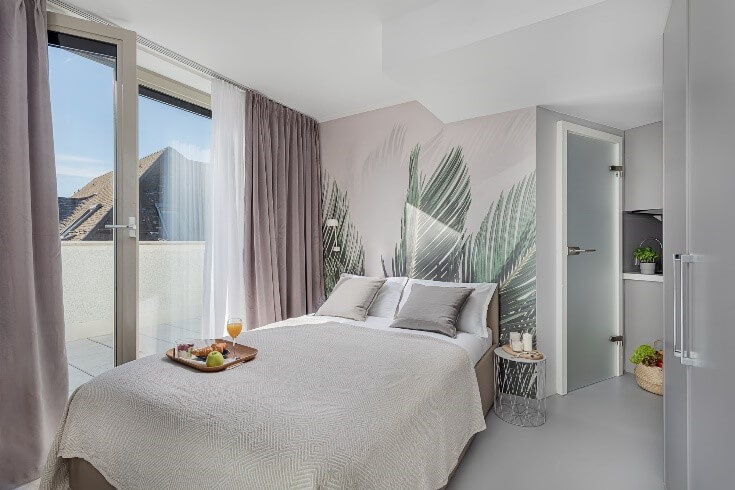 The business idea was born when CEO of the company – Anja Graf – was managing her own modelling agency and was looking for furnished rooms for her models to stay in. Those solutions weren't available on the market, so she decided to rent and furnish apartments herself. When renowned companies became interested in her furnished apartments, the business idea was born. In 1999, she opened the first completely furnished apartment building in Zurich's and launched VISIONAPARTMENTS.
VISIONAPARTMETS is growing every every year. Today, the company has over 20 years of experience in providing the highest quality accommodation and service and is one of the leaders on the global market in this field.
VISIONAPARTMENTS specializes in renting out stylish and furnished serviced apartments all around the world. Established in Switzerland in 1999, the company quickly grew from a start-up to Switzerland's market leader with a global presence. Today, VISIONAPARTMENTS offers tailored temporary living solutions in over 850 business locations worldwide.
Challenge
IT Vision faced many challenges to implement and adapt the system for business management. It was decided to implement Microsoft Dynamics and adapt it for VISIONAPARTMENTS needs. At the beginning of the work, the company used a different system, which is why the implementation had to be gradual, without colliding with existing solutions. Step by step, the old system was phased out and substituted by Microsoft solutions.   Because VISIONAPARTMENTS is a global company the system needed to be adapted to the accounting and tax requirements of many countries. In addition, the company includes not only proprietary apartments, but also other companies. Due to the international and multi-entity nature of the company, a multi-level system integration between the group's entities was required.   Due to company's character it couldn't work without a rental management system. During the project, VISIONAPARTMENTS created a dedicated platform to manage rental (VMS), reservations, invoicing, supply and organization of work related to the maintenance of premises (maintenance, cleaning staff, internal logistics). IT Vision has fully integrated the Microsoft Dynamics system with the VMS management platform.
Solution
Considering VISIONAPARTMENTS specifics and mainly its international character, ERP System was adapted to different accounting and tax requirements of countries such as Switzerland, Austria, Germany and Poland. To obtain the highest efficiency of the system, and thus the company, the latest Microsoft Dynamics options were used. Solutions were implemented in over 20 companies in VISIONAPARTMENTS group.   In addition, internal processes at VISIONAPARTMENTS were reorganized and streamlined to improve the efficiency of company management. IT Vision, taking into account the dynamic development of the company, enabled easy system update, which was not possible in previously used solutions.   IT Vision implemented many additional functionalities such as: advanced reporting and consolidation of reports, deposits management and automation of their settlements, automation of intercompany transactions and standardization of settings for all entities in the group.
Result
VISIONAPARTMENTS
Thanks to the solutions implemented by IT Vision, VISIONAPARTMENTS received an ERP system tailored to their individual needs.   During the realization the dynamic development of the company was taken into account. Thanks to solutions applied by IT Vision, growing number of entities in the group won't require hiring new employees to manage the system. This means that VISIONAPARTMENTS could note savings. Considering the flourishing of the Anja Graf's company, IT Vision has implemented Microsoft Dynamics in such a way that the system is adapted to the easy and quick implementation of further solutions and improvements in VISIONAPARTMENTS.