This year Microsoft presented the Dynamics 365 Commerce 2020 wave 2 investments. Brendan Sullivan, Principal Product Manager for Dynamics 365 Commerce showed where Microsoft is going and presented some of the new features and capabilities that they're releasing as part of this wave.
Brendan briefly showed the most important improvements, capabilities and features in Commerce. They are:
omnichannel improvements,
modern store in frontline workers improvements,
new additions to intelligence, insights, and analytics,
new digital commerce capabilities.
Commerce and products in Dynamics 365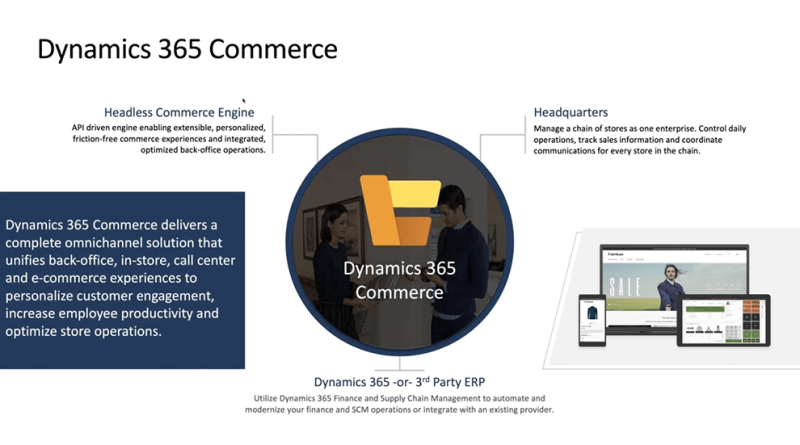 Microsoft offers a core system which provides a headless commerce engine capable of interacting with either the Dynamics 365 Finance and Operations or working with third party ERP through a connector. The system can serve them through a headquarters solution that gives you the ability that interact with your products, prices, promotions, discounts, and customers to be served that headless commerce engine across a range of different retail channels.
Serve your customers
You can serve your customers in number of channels. E.g. in-store retail channels, point of sale, and mobile point of sale solutions.
Call center solution gives you the ability to work with our call center operator over the phone.
Digital commerce solution, gives you the ability to have rich and immersive websites and be able to expose your products, get people to discover and learn about them and purchase them.
Marketplaces, as well as social platform channels allow you to not only broadcast your products. They allow to broadcast your information, so that you can drive market share and get customers to come to your products, as well as purchase those products on those social platforms.
Conversational enables you to work in real-time with a customer, to have AI chatbots, and to work with the customer. All those solutions give customers the possibility to find the product they want. And they enable you help them discover products and learn about it.
Microsoft gives you chance to work in many channels by different, individual roles:
store clerk in the retail stores,
consumer and shopper who works with the e-commerce systems that are driven by marketers and merchandisers,
customer service reps who man the call centers,
bots and virtual agents which power call center capabilities as well as conversational capabilities.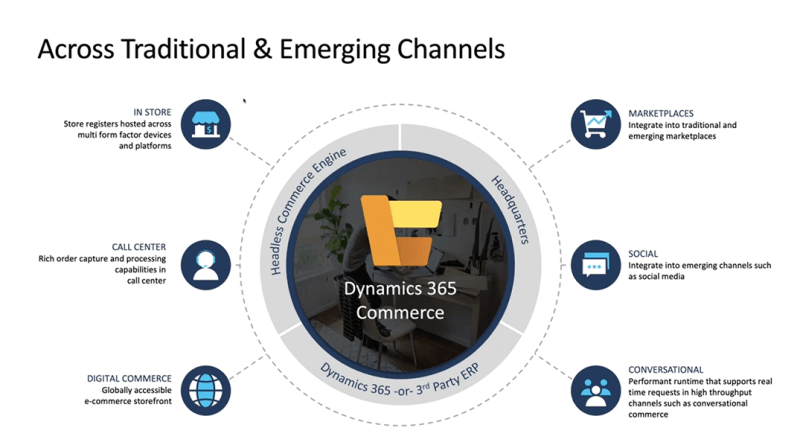 Microsoft also offers emerging business to business solution that allows you to bring up B2B solution connected into our headless commerce engine and be able to power purchasing scenarios.
If you look at all solutions together you will see that Microsoft actually powers a large number of traditional and emerging channels. Microsoft also supports a number of customers and business facing customers across all these different retail channels.
What gives you the headless commerce engine?
First of all you can manage your products and master them in one centralized place. You also gain the ability to serve customers across different retail channels. You can use different prices, promotions or discounts.
Secondly, it gives you the ability to capture all that customer information, whether it be orders, customer information, account information, addresses, and clickstream data or other. It gives you the ability to have one golden customer record across all of your different retail channels.
It also gives you the ability to holistically view your retail solution across all your different retail channels. You can see what products are selling best in a given channel. What is more, with Microsoft Commerce you will know:
how best to strategically place your products for shipping and for sales based on information.
What types of customers are interacting with a given channel, and how best to sell to those customers in those given channels.
Commerce – new features released in 2020 wave 2
Digital commerce capabilities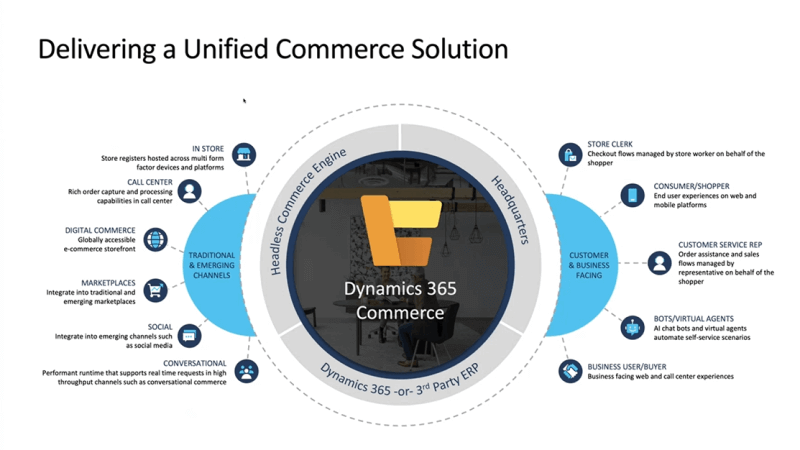 Visual page builder was changed. Microsoft integrated drag and drop page design. Now you can easily drag modules onto the canvas. Also making changes in the canvas is much easier.
Microsoft also gives you the ability to do color and style modifications on your page. Without CSS extensions for that. Now you can also do preview by device types, see what is your page is going to look like in reference to a particular responsive breakpoint.
Microsoft also simplifies the list management. Whether it's a manual generated list, an algorithmic list or an AI powered personalized list, you can modify and control that list more easily within the interface.
Lastly, you are able to introduce page item variations. It gives you the ability to quickly and easily build variations for simple tasks like localization and marketization. You also gain the ability to have those variations for A/B testing and server-side experimentation, as well as setting the stage for the ability to do that later with targeting and personalization.
Intelligent content experimentation
What is more, Microsoft is going to release in this wave intelligent content experimentation. They have a range of server-side experimentation capabilities that has partnered closely with Optimizely to be able to deliver. These capabilities will give you the ability to do true server-side AB testing. (Optimizely is a market leader in both server side and client-side AB testing.)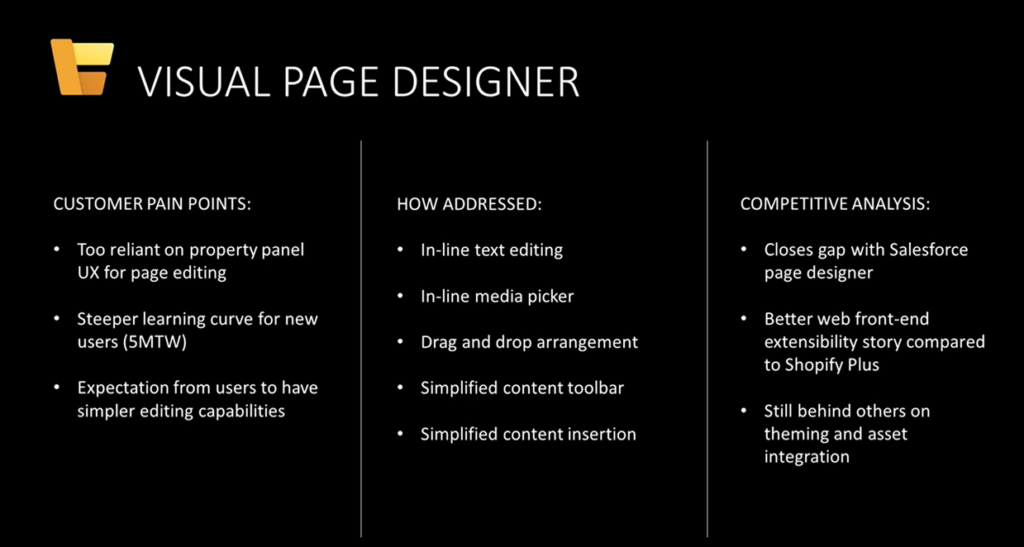 All of these are giving you the ability to exploit those variations as experiment control A and B variance and being able to split your traffic across them. Pages, slots, modules, lists, content items, and images. You can select any of those items and change them out with an experiment as a variation.
You can really control any granular part of the page or the entire page to be able to run an experiment and see what resonates with your customer. Once you understand what resonates, you can easily promote that page so that all customers will see that content.
New e-commerce modules
You're geting the ability to purchase gift cards. You can purchase those with customer amounts, support for kits, support for pop-up cart. You can easily present a new pop-up cart to the customer, instead of using the traditional cart flow, if you so choose. You also gain the ability to have a color picker in the PDP, so you could use visual identifiers versus textual identifier.
Microsoft is also improving module extensibility and simplifying the overall component architecture and extensions and extensibility. You will be able to extend data actions, and define new extensions within those data actions. Thanks to this you can work more intelligently across modules as well as be able to work with third party data services.
New module abilities
With new modules you will gain the ability to pass contexts to modules within slots, so you can actually pass data between modules. The ability to pass module configs to components, so you can easily control the content flowing to components in terms of configuration settings.
Microsoft is also announcing preview of the social commerce capabilities. They will give you the ability to syndicate content out to a range of different social media platforms like Facebook, Instagram, Pinterest, WeChat. You will also have the ability to both sell content through as well as sell content in the social commerce
Intelligence, insights and analytics capabilities
Microsoft provides intelligence and insights to your products. With recommendations from AI and machine learning you gain the ability to create store of the future.
Omni-channel capabilities.
First of all, you gain the ability to sell across modern payment methods that don't have been ranges associated with them. It gives you the ability to capture, cancel, and refund orders through the system, and being able to support these payment methods across all the different retail channels.
Microsoft is going to provide a PayPal connector out of the box. It'll be very similar to add-in connector. You'll be able to use the connector for free and maintain it in perpetuity. But will also give you the ability to simply enter into your account details and start transacting. It'll also bubble up in store starter kit, so that you can easily integrate PayPal into your e-commerce site. It facilitates start taking transactions online.
The ability to influence relevance and rankings.
You can make sure that the right products are appeared to the customer. You also gain the ability to personalize for a customer. You also can drive just what product results are shown to any given customer based on a range of factors such as products that they purchased, looked at in the past, or external factors. Thanks to this you can present the right type of products to a customer given their particular situation. It's also gives you the ability to do sponsored products if you want to do advertising your products on your system. As well as the ability to do insights and analytics based on searches.
Customer service solutions
Integration with the Dynamics 365 Customer Service solution gives you the ability to drive customer service chats and virtual agents using the Microsoft Virtual Agent Architecture. You be can present those directly within an e-commerce site so that customers can easily ask questions, can interact with the virtual agent to be able to get support, make modifications to their orders, and work directly with any of the information that's in the headless commerce engine. You are also able to surface this information within the call center so that customers can easily interact with their orders in details.
Marketing
Microsoft gives you the ability to opt in and out of marketing. So if you have a direct marketing solution, you can enable this at the customer level to say whether or not they want to receive e-mail. So that when you're at the point of sale system or when you're in e-commerce, and you can sign up or sign out of getting marketing e-mails.
Customers behavior
You are also able to look at the duration since the customer signed up, so you can actually see how long a customer has been with your solution, as well as the ability to capture additional addresses and being able to have multiple addresses and select those for shipping. The Store System Health Check gives you the ability to view all the different systems running within your retail store.
As you can see Microsoft put a lot of effort to improve its commerce solution. We believe you and your company can gain a lot from these changes.