The Envision Forum is behind us. During this year's forum speakers talked about digital transformation and about the progress of Polish companies in this process. Many of the discussions focused on security, digital competences, and the importance of artificial intelligence.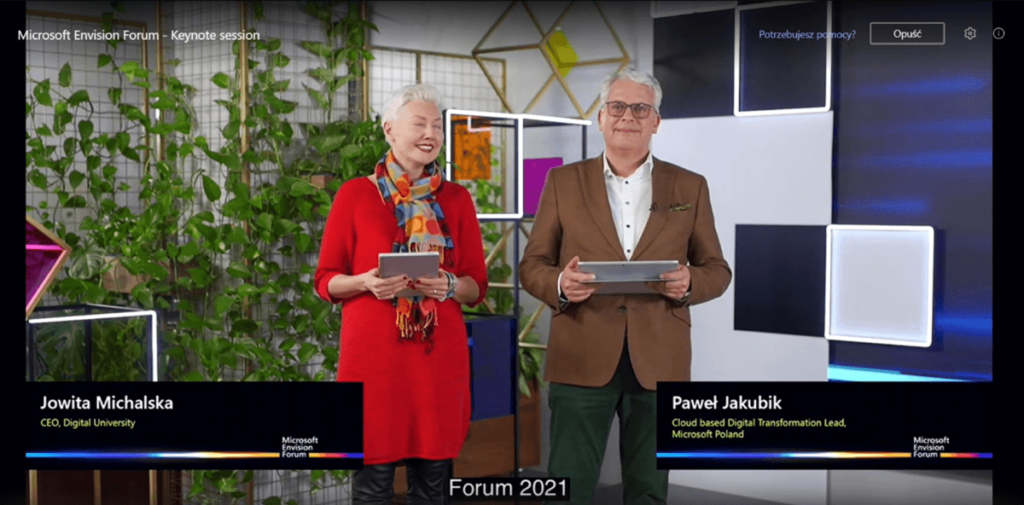 Among the speakers there were, among others:
Brad Smith – President, Microsoft
Mark Loughran – General Manager Microsoft w Polsce
Jean-Philippe Courtois – Executive Vice President, Microsoft
Jared Spataro – Corporate Vice President, Microsoft
Charles Lamanna – Corporate Vice President, Microsoft
James Eckart – Chief Security Advisor, Microsoft
Digitalization
One of the main topic was digitalization. This process has affected most companies and employees over the past year. However, it has been a trend among developing companies for years and we will be still observing it. The digital nature of companies and their solutions is a key factor to success.
At this year's Envision forum, we learned about the history of many companies: Link4, CCC, Rossman, PKO BP, Żabka and Budimex. This diverse catalog of companies using Microsoft 365 or Teams solutions shows that digital solutions support organizations regardless of the industry in which they are implemented.
Appropriate competences
Representatives of those companies emphasized that not only buying new technologies is important. The most important are the appropriate competences that allow us to use this technology properly. An example of focusing on competences is also the Power Platform solution, which, using low-code, allows you to create appropriate solutions without knowing any coding.
Security
Speakers also focused on solutions and data security. It is automatically provided by the Microsoft cloud and additional solutions offered by the company. Microsoft spends over a billion dollars a year on issues related to increasing the security of its products.
James Eckart, Chief Security Advisor, Microsoft, while speaking about cloud solution said that "in the Cloud only the sky is the limit". With those words he emphasized how important is to implement solutions in the cloud. Cloud is not only secure but enables easy scaling and adding new solutions which is crucial for companies which want to develop. Not only businesses, but also the reality is changing very dynamically. This is why the ability to scale your systems is so important.
James Eckart also emphasized that the observed movement from point applications to platform solutions that allow for quick and safe actions is very important.
Artificial Intelligence
Artificial Intelligence will play a bigger, and bigger part in the world. Work is already underway on the use of AI in road traffic regulation or in the management of planting and harvesting.
Microsoft Teams
Companies whose stories we saw at the conference emphasize the meaning of Teams application. But in approach to Teams is important to see it as a comprehensive tool, a company working model, not to see it just as a messenger. As the LOTOS Group has shown, advanced security and cooperation capabilities allow for remote work even with sensitive documents that require special security procedures.
As Jared Spataro, Corporate Vice President, Microsoft, says our work didn't move to home office. It moved to the cloud. Even if we return to companies full-time, to our locations, our work will remain in the cloud. It is worth remembering when implementing new solutions.
Customer-centricity
At the conference, participants also talk about an increasingly important customer-centricity. Because approach to running business has changed. Now we shouldn't be focused on our products or services. But we should focus on meeting the customer's needs and experiences. Customer's needs should be the trigger for our changes. Then should we focus on increasing competitiveness, innovation, and digital competences. However, we should remember that the customer's needs are the starting point for this process.
Summary
Most companies in Poland are aware of the importance of digital transformation. For it is not only a chance for development, but even a necessity. However, Polish companies present a very different speed of digitization. It should be remembered that digitization is not about improving systems or approaches. But it is about creating a new business and a new approach. Unfortunately, many companies still forget about it. Similarly, they should remember that the digitization process is about creating new processes, and not transferring analog processes to the cloud.