The role of ERP in the enterprise – Paweł Prymakowski
CEO
At the beginning ERP systems were used for material resources planning (MRP). But as they were developing, they stopped to be just tools for material planning. Nowadays systems are solutions for managing whole spectrum of enterprise. Work, resources, customer relationships or finances. See what the role of ERP in the enterprise is today.
It may all sound enigmatic. So it is worth taking a closer look at the role of the ERP system in the enterprise. Of course, you can write a book about it, but I would like to show you the most important functions and advantages of implementing an ERP system.
ERP is like the nervous system of the enterprise. They collect information from every corner of the company's operations and transfer it to the system / database, processing it, integrating and giving feedback and presenting analyzes. ERP support ranges from handling customer orders and deliveries through inventory management, planning, production management, accounting, etc.
What is important is that the ERP system is not a tool supporting only the management staff in the company. It improves the work of all departments in which it is implemented.
Data management
Without an ERP system, company performance data is distributed across different spreadsheets and systems. In such a situation, the company can of course function. But making decisions based on this data becomes very difficult and time-consuming. In order to have an overview of the entire situation of the company at a specific point in time, you need to transfer the data to one database, standardize it and then perform the analysis. Such a process is work and time consuming and makes it impossible to make quick decisions. However, this one can be operated by an ERP system that not only stores all the data but enables the creation of advanced reports and analyzes.
But it's not all when it comes to data management. The system allows the information sent between departments in the company to have an impact on their work. For example, if we receive an order, we will be able to immediately check inventory, send information to production about the need to fulfill the order and accurately estimate the time of manufacturing and delivery of goods to the customer.
The role of ERP in the enterprise – transfering information
Information is transferred internally in the company usually in two ways:
Data access from one database through multiple devices. These solutions allow all departments to access data from a single source, but through multiple devices (including phones and tablets) and regardless of location. This allows for more efficient and accurate analysis. This would be impossible if the data were stored on multiple systems. By gathering information in one place, data professionals can more easily analyze and effectively identify business trends and potential problems.
Real-time data: ERP offers access to data on business processes, resources and work status in real time. This means users can be sure that the information they see is up-to-date and relevant.
What is more, most of ERP systems offers advanced functionality or integration of Business Intelligence (BI). This solution enables to get more value from data and gain insights from company's activity.
Finance management
Finance management in the enterprise is more than just accounting. The network of financial connections and dependencies in the company is very extensive. You buy goods from vendors at a certain price, you process them, which also incurs costs, labor, advertising, administrative and tax costs. Changing just one factor or cost can affect your overall budget and financial plans.
Savings and predictions
With help comes ERP system which not just allows for accurate determining individual costs but also facilitates savings and creating predictions of future incomes and expenses.
Data access. ERP gives you access to financial data in real time and also access to all historical data. It allows for constant and smooth finance monitoring and for efficient management of receivables and liabilities
Simplification of accounting. Thanks to consolidated reports and having all data in one place, accounting becomes much easier, faster and accurate. In addition, the system eliminates many of the work that would normally have to be done by hand. ERP allows accountants and financial analysts to extract the most important information from accounts, budgets, cash flows and various types of costs. The system supports, among others, management of receivables and liabilities, reconciliation of bank accounts, carrying out monthly / annual closings, managing fixed assets, or creating multidimensional reports and analyzes
Hidden costs. Managing system helps to localize hidden costs or indirect costs such as costs of sales, shortages, or expenditure necessary to adapt to changes in regulations. It is also possible when individual departments use different cost models and organizational principles.
Savings through joint orders. Thanks to the ERP system, it is easier to create joint purchase orders from different departments. The solution, by collecting all the data in one place, will give you information whether certain departments of the company report a need for similar or the same products. Such information allows you to negotiate more favorable prices and discounts with suppliers.
Processes and manufacturing management
Faster, cheaper, and more accurate. These three words perfectly describes manufacturing process which uses ERP system. The system supports whole manufacturing process from assets registration, trough planning, production to documentation.
Thanks to the system, production planning and accounting take less time, and its scheduling becomes more effective. ERP enables the automation and standardization of processes, which shortens their time and reduces the number of mistakes and errors. It also influences the improvement of efficiency, productivity, and reduction of manufacturing costs. Thanks to the system, planning the use of resources (including parts, machines, operations, personnel) is more precise, which results in their more effective use. It allows you to define and configure them, as well as record conducted operations. The system also monitors the cost of goods and resource consumption, allowing for an accurate total cost estimate. It also handles deviations and supports the administration of documentation, including operating manuals, product certificates, and measurement.
Increase your efficiency
Because all information is in one place and errors are almost completely eliminated from the process, delivery timeliness increases. The system also supports optimization of manufacturing schedules equipment and labor, increasing efficiency of manufacturing. Thanks to versioning and content updating, the system facilitates the maintenance of manufacturing structures. Production is recorded in the system to ensure traceability to factors of manufacturing, which is the basis for invoicing. ERP also allows for the administration of manufactured or modified goods by assigning them information on factors of production or serial numbers.
The improvement of manufacturing efficiency also results from the support of employees in this area. The system provides all users with relevant information about operations they proceed. Thanks to this, employees know exactly what tasks they should perform. Such support reduces the risk of errors and increases efficiency and productivity, helping users to navigate complex processes and carry out their tasks in the most efficient way.
Supply and inventory management
Supply and inventory management is a big challenge. You have to monitor inventory and product locations. ERP system supports those tasks. It helps to reduce minimal inventory and helps to save on warehouse space. Thanks to access to the most actual data, it also allows for optimize purchasing processes.
In the case of inventory location, ERP allows you to track goods using barcodes or serial numbers. It scans them and passes information to the system from each stage of the supply chain. Thanks to this, we always have up-to-date information about the location of products. The system also improves the visibility of the warehouse by optimizing the picking, packing, and shipping process, shortening time of finding the right goods or components.
Customer relationship management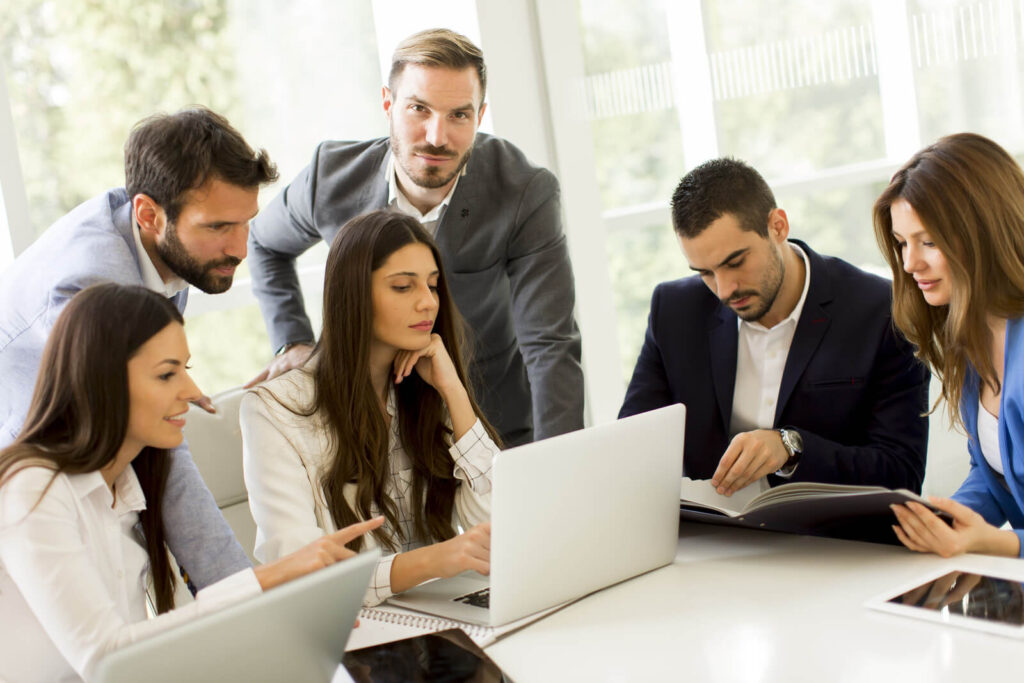 Modern ERP systems contains CRM modules. CRM solutions facilitates managing relations with customers but if it's a part of whole ERP system it uses not only customer information but also data and predictions concerning whole enterprise.
First of all, the ERP system allows you to improve the quality of customer service, which increases customer satisfaction. The system provides up-to-date and accurate information about customers, their order history and purchasing preferences. Thanks to this, it is easier to meet customer expectations and predict their future behavior. This data allows you to formulate a sales strategy to better generate leads. ERP also helps to deliver customer-oriented goods and services. By combining customer data with company data, it is possible to accurately indicate the date of production or delivery. Timely and fast delivery will also have a positive effect on building relationships with customers. This supports faster response to customer and market needs.
The system also allows you to improve the quality of after-sales and regular service. It enables tracking interactions with customers – placed orders, deliveries, returns, reported service requests. Thanks to this, the system shows a picture of customers behavior and their needs.
All functionalities typical for CRM system
What is more the system is offering all functionalities typical for CRM system. It supports direct contact with customer, automates marketing activities (e.g., social media activities or e-mail campaigns) and offers contact center software.
ERP supports both contact with individual customer and contact with other organizations. It allows to manage prices and discounts. It also enables the creation of preferential prices for a given customer or group of customers. This solution supports the maintenance of positive relations with the customer.
Thanks to all functions in the field of customer relationship management (including timely deliveries, high service standards), their loyalty grows. The sum of all the above activities also results in a direct increase in sales.
Human resources management
Managing human resources in a company that hires many employees is a real challenge. It is necessary to coordinate holidays, payrolls and update information about employees. You should also properly separate work and tasks, maintaining the continuity of the company's operations and not changing the processes carried out in the company. ERP allows for smooth task management and work distribution. It supports the optimization of work inputs, and thanks to that reducing its costs. The system also makes it possible to increase the number of activities performed by teams, as some of them become automated. Having all the information in one system in real time allows for fast and effective circulation of information. The system also supports work registration. ERP makes it easy to enter information about completed tasks, working time, planned breaks at work / holidays, etc.
The role of ERP in the enterprise – better management
Facilitated reporting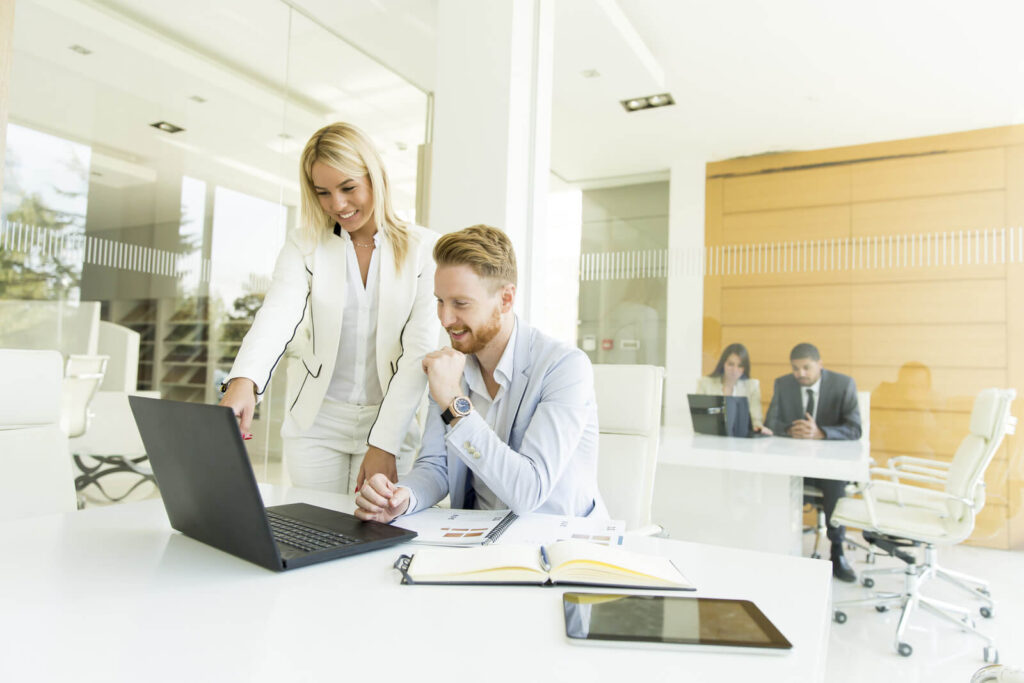 Because all data in the system is always up to date, creating advanced reports and analyzes is no longer a problem. Reports are created quickly and can present data at any level of detail. Additionally, the system supports the creation of reports and documents required by law. In Poland, ERP supports split-payment payments, a uniform control file – JPK and submitted VAT.
Mobility
The advantage of modern ERP systems is access to information from any place and at any time. Thanks to Internet connections, access to the system is possible from any device (tablet, computer, mobile phone). Such solution supports remote work or work in various locations. It ensures that all users always have the same, up-to-date data.
Forecasts
ERP system supports more than just current work of the enterprise. It allows to create forecasts for sales, liquidity, demand and supply. Thanks to them, it is possible to properly plan the company's work or future development.
Safety and risk management
Implementation of ERP system will improve safety on many levels. First of all, it will reduce the number of errors and mistakes. Secondly, you will always ship goods on time. Another element which ensures the safety and stability of the company's operations is the monitoring of manufacturing processes and stock levels. The system also makes sure that all reports and documents are correctly completed. In addition, many ERP solutions also offer risk management modules.
What is more, the system allows to create appropriate access levels. It is possible to divide the data displayed by a given user, e.g., due to role in the company. ERP also allows you to monitor financial liabilities through a "workflow". For each user, it is possible to assign a maximum amount of expenditure that does not require approval. If such an employee places an order for a higher amount, it will require additional consent. The entire process goes through the system, which makes it quick and effective and, importantly, increases financial security.
Summary – The role of ERP in the enterprise
The functioning of the enterprise is based on a network of connections between departments. The system supports not only individual areas of the company, but also strengthens the links between them. It ensures that the right information reaches the appropriate departments, and all employees are always "up to date"
Implementation of the ERP system will improve work of every employee. Not only the management staff, giving them the right tools to make the right business decisions, but also individual employees, automating and improving the processes they perform.
The ERP system is saving time, money, and resources. It streamlines processes and eliminates errors. What is important, a properly selected ERP system can develop together with the company and scale accordingly. The ERP system is the right tool to support the enterprise's success.
Do you want to implement an ERP system?
Author
Paweł Prymakowski – CEO of IT Vision – a company implementing ERP since 2000. Experienced executive, sales and business development expert.
Experienced expert. He has led many international projects. He has experience in many industries: IT, services, production, construction, facility management, trade / distribution. Paweł also knows very well business areas such as: management, controlling, BPR, accounting, IT project management, EU funds as well as planning and implementation of international projects