The ranking of the best ERP systems takes into account the level of user satisfaction with the entire system and its individual functional areas. Importantly, the review shows the level of satisfaction of real users from the use of systems. Thanks to this approach to the ranking, we can see which solutions work best in enterprises.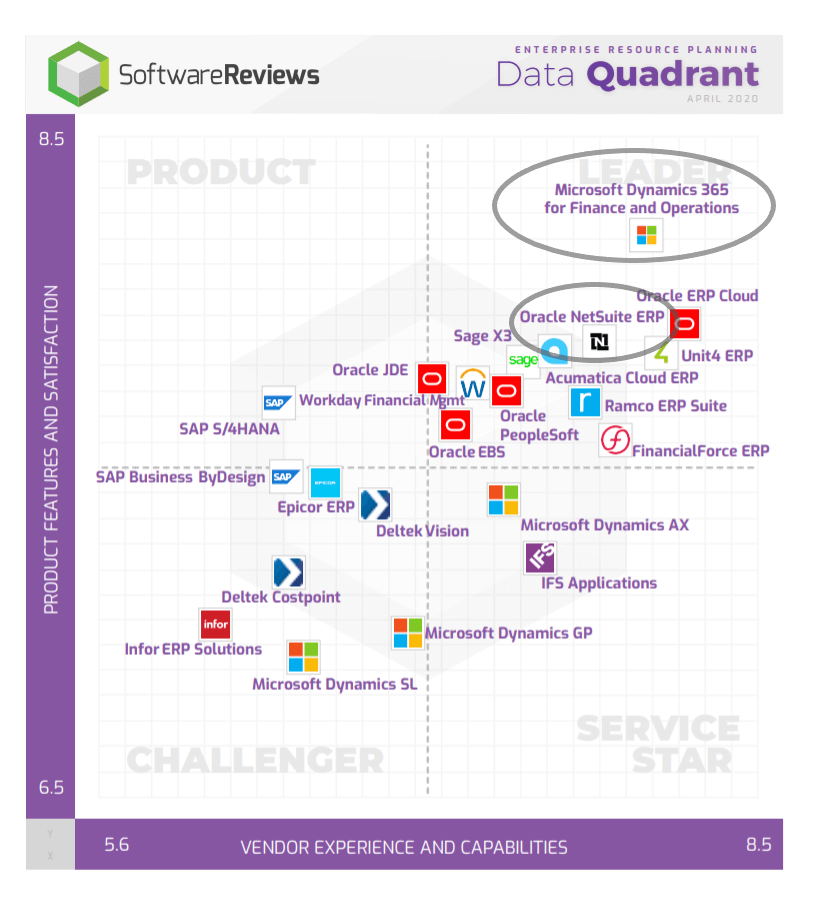 Once again, we are pleased with the high results of ERP systems that we offer to our costomers. Among the leaders of the "magic quadrant" there were also Microsoft Dynamics solutions or the NetSuite system.
Microsoft solution collects major awards in almost all categories. Importantly, he also did not collect any negative feedback. The overall level of satisfaction is very high.
As many as 84% of users of Microsoft Dynamics 365 Finance and Operations recommend their ERP system. It is also worth noting that in the ranking another solution offered by IT Vision – Oracle NetSuite is well placed.
Overall summary
In the overall summary of resource management systems, Microsoft Dynamics 365 ranks 1st. Also on the top is the solution from Oracle, NetSuite, in 4th place. This category takes into account the result of satisfaction, which consists of: Net Emotional Footprint, supplier capabilities, product features and probability of recommendation. The net emotional footprint measures the user's emotional response ratings (e.g., reliable, respectful, honest).
Capabilities
In terms of capabilities of the Microsoft Dynamics system provider, it also ranks first. The table below shows the level of satisfaction of system users from various areas of system functionality. Importantly, the NetSuite system is also high on the list.

What is more…
Microsoft Dynamics 365 is a leader in most rated categories. It is best rated in terms of the quality of required and standard system functions. It is also appreciated when it comes to:
creating business value,
range and quality of functions,
product strategy and pace of improvement,
usability and intuitiveness of use,
ease of customization,
ease of implementation.
Oracle's NetSuite system also scores very well in these categories.
Source: https://www.softwarereviews.com/