The Microsoft Ignite conference is behind us. During this year's meeting, we dicovered a lot of news from the world of Microsoft. Alysa Taylor (Corporate Vice President, Business Applications & Global Industry) and Muhammad Alam (Corporate Vice President, Dynamics 365 at Microsoft) during the Ignite conference focused on a new approach to work and preparing Microsoft users for the challenges that the future may bring.
The Microsoft ecosystem is a range of different applications for all types of business.
Each application or solution can be adapted to the individual needs of the company. Thanks to that Microsoft products are a good choice to support the daily work of enterprises. They can be easily scaled or extended with new functionalities.
Microsoft offers solutions that support building the resilience of enterprises at every business level and help meet today's challenges. What's more, they allow you to proactively stay ahead of future opportunities – to reimagine the future. At the Microsoft Ignite conference, new Microsoft Power Platform and Dynamics 365 features were announced to help make this vision a reality.
News from Ignite – Microsoft Power Platform:
Low code updates for professional developers with an integrated Microsoft Power Apps, Microsoft Power Automate, Microsoft Power Virtual Agents, and Microsoft Azure API Management experience to scale solutions through Power Apps with low-code and distribute through Microsoft Teams.
Power Platform SDLC (software development lifecycle) workflows and templates with GitHub Actions.
Power Virtual Agents and Microsoft Azure Bot Framework integration to build bots with no code, plus a simpler, one-click publishing experience on Teams.
Deeper Power Apps and Teams integration, including Power Apps authoring app within Teams, Project Oakdale for a free low code data platform, and Teams visual style support.
The preview of the Microsoft Power BI app for Teams which provides a central, personalized home for data in Teams will help customers scale insights across the organization by ensuring that insights are just a click away from where conversations are happening and where decisions are made.
Power BI is now natively integrated with Excel and is easier than ever to discover and work with trusted Power BI datasets that are refreshed, governed, and secured directly in Excel.
Two new Power BI offerings: Power BI Premium Per User as an entry point to Premium and a new on-demand capacity scale option for Premium customers.
The preview of Microsoft Power Automate Desktop, bringing robotic process automation (RPA) to every desktop.
News from Ignite – Microsoft Dynamics 365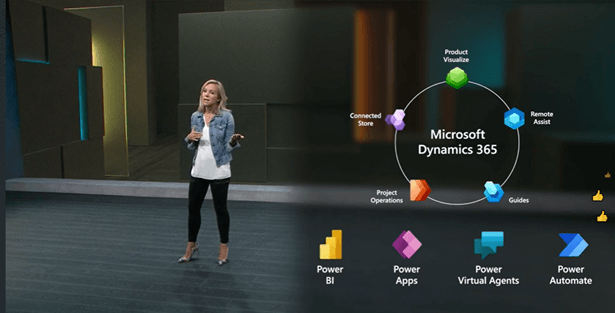 A new first-party voice channel for Microsoft Dynamics 365 Customer Service, built on Microsoft Azure Communication Services.
New add-ins for Microsoft Dynamics 365 Supply Chain Management: Cloud and Edge Scale Unit and Inventory Visibility.
General availability of Microsoft Dynamics 365 ​Project Operations.
Easy application development
This year's Microsoft Ignite conference also focused on accelerated application development. To meet the growing trend of "fusion", low-code or code first projects, Microsoft has made many improvements and investments. Thanks to them, it can ensure trouble-free cooperation between Power Platform, Microsoft Azure and Microsoft Visual Studio.
Power Platform
Power Platform is becoming more and more important product. The platform is constantly evolving to shape and scale the work with low code applications and new features. Changes in the Power Platform are intended to help professional developers quickly transform their business from scratch. All this using tools and languages that developers are already familiar with.
Apps from Power group
Microsoft has also made changes to Power Apps, Power Automate, Power Virtual Agents and Azure API Management. Thanks to the changes, all of these applications will now work together seamlessly. They will allow developers to scale low-code solutions with Power Apps and distribute via Microsoft Teams. Moreover, developers can create custom connectors and seamlessly upload them to dedicated Power Platform environments for easy discovery in Power Apps. In addition, Microsoft Azure Functions and Azure API Management can be used to enable individual developers to distribute Power Apps in Teams.
GitHub improves programming
To improve programming, Microsoft announced the introduction of the Power Platform to the platform where development teams collaborate on projects – GitHub. Professional developers can create their own SDLC workflows in the marketplace (software lifecycle) using GitHub Actions for Power Platform. They can also use preconfigured SDLC workflow templates.
Power Virtual Agents & Azure Bot Framework
In addition, Power Virtual Agents and Azure Bot Framework will now run seamlessly, allowing developers to build bots without code. Power Virtual Agents has also been improved to make it even easier for developers and users to publish to Teams with a single click.
Collaborative work extended with team insight into data. Allow everyone to make better decisions.
Microsoft Teams is a platform that has become an integral part of our lives. Both professional and private. It is also used for remote learning. Interactions in Teams are not only between people, but also between data. Now, Power BI in Teams is evolving to help everyone find and work on insights.
Power BI app for teams
Microsoft has introduced a new Power BI app for teams that provides a more streamlined experience for accessing Power BI reports in Teams, making it easier to collaborate with data and combine action insight with sample reports, automation, and easy sharing.
A preview of the new Power BI app for teams has been announced on Ignite. The app will enable users to quickly find, search and discuss data without leaving Teams. It's a central, personalized storage in Teams, ensuring that information is always one click away from where conversations are taking place and decisions are being made.
For example, PayPal moved to Teams and added a tab for Power BI visualizations to Teams meetings, providing an easy way to easily share a project's current status and goals as people join.
Power BI Premium
In addition to upgrading the Power BI service, Microsoft also provides broader analytics choices and scalability with two new Power BI offerings: User Power BI Premium as the entry point to Premium, and a new on-demand capacity scaling option for Premium customers. All this to enable flexible scaling of Premium nodes.
Automation for everyone
Microsoft constantly invests in robotic process automation (RPA). The acquisition of Softomotive opened doors to pare Power Automate with WinAutomation, enabling anyone to automate manual business processes across both legacy and modern applications.
Microsoft has introduced a preview of Power Automate Desktop. The service enables the automation of local processes and tasks, from simple data transfers between systems or image search to more complex business processes and workflows. Everything is available from the computer.
Faster results at Toyota thanks to Microsoft
These updates show what Microsoft solutions can do when everyone (from professional developers to non-technical users) across the company has access to code-less or low-code tools.
Microsoft showed three ways Toyota Motor North America (TMNA) enables everyone in the enterprise to troubleshoot problems using the Power Platform.
Power BI, Teams & Microsoft Azure Synapse
For example, the team is using Power BI, Teams, and Microsoft Azure Synapse to monitor their network and analyze the immense amounts of data that is created as part of that process, including surveys performed by their field travelers that are responsible for different regions. Toyota harnessed the full suite of Power Platform features plus Microsoft Azure Cognitive Services to rapidly build and deploy a Vehicle Delivery Quality app that improved accuracy and efficiency for field travelers collecting information. Plus, it gave them 100 percent coverage across their dealers enabling Toyota to better understand what dealers are doing right and improve the quality and safety of vehicles delivered to their customers.
Dynamics 365 updates. Company resistant to change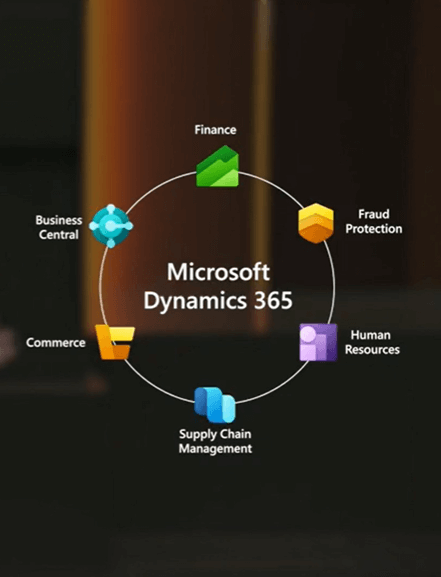 It goes without saying that every business must prioritize meeting customer expectations, even in times of change and uncertainty, in order to remain resilient and relevant to the marketplace. It now also needs to protect itself from the economic effects of the COVID-19 pandemic. To make it possible, Microsoft introduced new additions and updates to Dynamics 365 focused on the most critical customer satisfaction centers. The most important business areas today: services and supply chain, are specifically addressed in the appendices. These enhanced solutions are ready to use, yet quickly scale and adapt to create unique digital functions.
The first omnichannel solution, including native voice
Customer service is not just about building loyalty and customer retention. This is an essential way to understand how to better serve customers who rely on the company's products and services. Nowadays, it is especially important to offer multiple ways of continuous communication. Dynamics 365 provides optimal customer service solutions for everyone in the company – from frontline employees and customer service management to solution implementers and administrators.
First-party voice channel
At Ignite, Microsoft announced the addition of a new first-party voice channel for Dynamics 365 Customer Service based on Azure Communication Services (available in preview). By integrating voice with existing multi-channel capabilities, the voice channel provides smooth, end-to-end customer service in a single cloud-based solution. The solution enables teams to deliver consistent, connected help across all channels. Features based on artificial intelligence help you solve problems faster, including offering real-time suggestions for employees and carrying out a sentiment analysis that starts working immediately (out-of-the-box feature). Moreover, with the Common Data Model, voice channel data natively integrates with pre-existing datasets – without data manipulation or reformatting.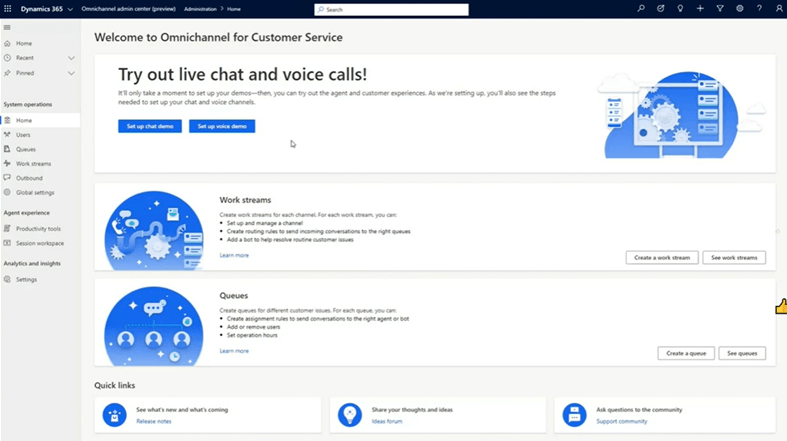 Supply chain risk management and maintaining continuity of supply
This year, companies have had to deal with rapidly changing customer demand and severe disruptions in their supply chains. Most of them found it difficult to change quickly. In order to meet new requirements, companies are trying to increase flexibility and resilience in the way they operate by digitizing the entire supply chain.
New additions to Dynamics 365 Supply Chain Management
Therefore, during the Ignite conference, Microsoft announced two new additions to Dynamics 365 Supply Chain Management that will improve visibility and enable users to react quickly to changing demand and supply. They are: Cloud and Edge Scale Unit and Inventory Visibility.
Companies often struggle with latency and connectivity when running operations in remote facilities. Parallel, resource-intensive processes can lead to network latency and reduced productivity. New Cloud and Edge Scale Unit add-ons for Dynamics 365 Supply Chain Management bring the power of the intelligent cloud to the edge. Add-ins allow companies to run critical storage and production workloads at the edge using Azure devices. As a result, they increase resilience and ensure 24/7 operation, even in the event of a temporary disconnection from the cloud.
Inventory Visibility
The new Inventory Visibility add-in for Dynamics 365 Supply Chain Management enables high-volume retailers and manufacturers to easily handle millions of transactions every minute. It also allows for accurate, real-time multi-channel inventory determination. Enterprises can scale easily to fulfill orders from multiple channels on time and reduce shortages and excess inventory. The new feature is hyper-scalable and can also work with third-party systems.
Transform project-based services
The solutions Microsoft announced at Ignite share a common theme: they enable enterprises the speed and flexibility to adapt to change, build resilience in any industry, and exceed customer expectations. If your business has a project-based organization structure, it's especially important to be able to adapt to the types of changes we've seen over the past few months.
Dynamics 365 Project Operations
Dynamics 365 Project Operations brings together and gives teams (Sales, Resource, Project Management, and Accounting) the visibility they need to deliver services to customers on time and on budget. Dynamics 365 Project Operations integrates with other enterprise systems. Thanks to this, it helps to drive business development in sales and delivery processes, without the need to integrate and replace existing systems. You can also easily scale Dynamics 365 Project Operations with Power Platform and other Dynamics 365 applications such as Microsoft Dynamics 365 Marketing, Microsoft Dynamics 365 Human Resources, and Microsoft Dynamics 365 Customer Service.
Soon Microsoft will announce more news and solutions to better support companies in their daily challenges!