"We have a clear vision. We are going to be the obvious choice for clients who are working with both production and distribution when they choose their ERP-system," . Says Karl Inge Stensland, COO of RamBase.
RamBase is investing in an international market, continuing Hatteland's long history of operating internationally.
"We see that RamBase clearly has international potential. Now we are distinctly focusing on Sweden, Poland and the UK as natural markets for us to enter," says Karl Inge. Inge explains that the strategy is to build a partner channel. Channel that will both sell the system and help customers put it to good use.
What started as a small group with a total of five people, who in the early 90s laid the foundation for what would become RamBase. Today company consists of 70 employees. As they now focus on building upon RamBase's history of operating internationally. And focus once again on taking the product out into the world, the need for new, ambitious employees arises.
"I think that employees at RamBase feel like their work contributes to a pretty unique story; we still have owners close to us who represent a journey and an entrepreneurial spirit," says Karl Inge.
Building on the mindset established in the 90s
Hatteland sits on a story that dates back to the 70s when Jakob Hatteland, out of genuine interest, began selling electronic components. He was selling to friends and acquaintances from his father's grocery store in Nedre Vats. As he eventually became acquainted with Ingvar Hognaland, a like-minded electronics and computer enthusiast. They began to build and develop things together.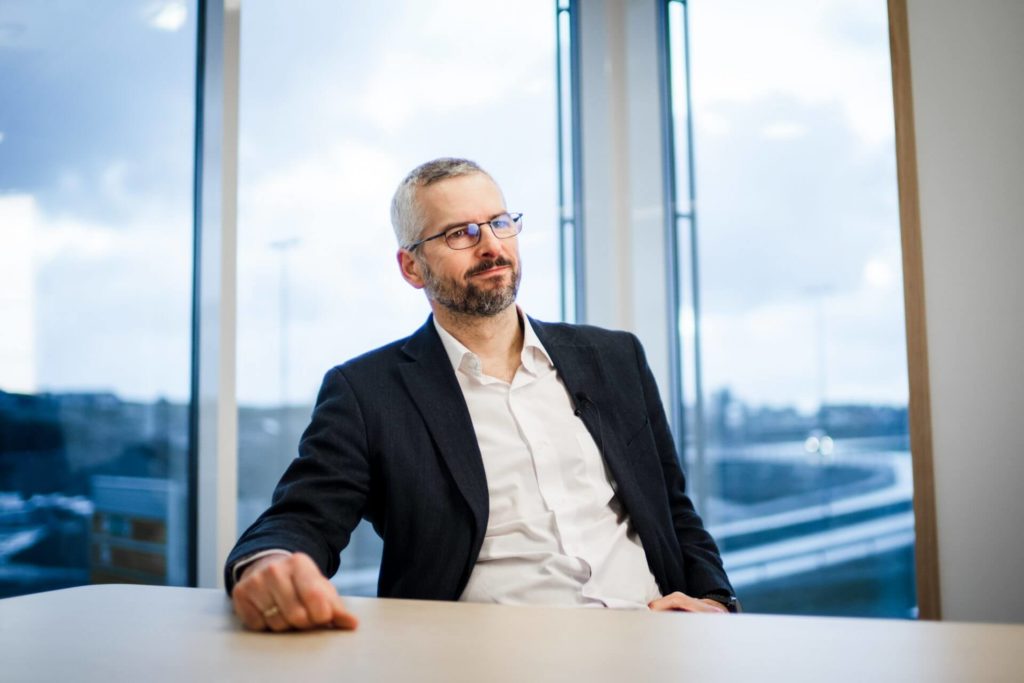 "This is the early seed that grew to become Hatteland – and by extension, RamBase as well," emphasizes Karl Inge.
When RamBase was started in the early 90s, it was a self-developed product; Hatteland as a business had grown so large that it needed a new computer system to cope with such rapid growth.
RamBase – A solution tailored to your needs
"When they saw that there were no solutions in the market that were good enough, they decided to build the system themselves," says Karl Inge.
With Hognaland in the lead, a small group of developers teamed up to develop what is today's RamBase. Technological decisions led them down a new path. And among other things, the first version of RamBase was developed with a completely separate database platform based on hardware.
"This was a very unconventional choice at the time, but it provided great competitive advantages that led Hatteland as a group to grow rapidly in a demanding international market," Karl Inge points out.
He further explains that RamBase was developed as a system to keep track of Hatteland's entire store, from sales and purchases to warehousing and finance: everything one needed for electronics sales. And although the thinking behind the original ERP solution is still at the heart of what is RamBase today, the system has undergone major developments since then; Today, it is a broad business system that contains both traditional ERP and manufacturing, and many other modules.
Searching for the best programmers
Karl Inge goes on to say that in order to get the growth they envision ahead. They now need to increase the staff by ten to twenty people annually.
"We are looking for the best programming heads; those who know the field well and who love to program; who genuinely think that this is fun," says Karl Inge.
He also states that they're recruiting people in all departments: system developers who will help program the system; consultants who will introduce it to the customers and to train our partners. They will also put in place aggressive marketing and salesforce. He emphasizes that nevertheless the most important thing is to bring in people who want to help lift the product up and out into the world.
"We are definitely looking for people who want to join such a journey towards internationalization and growth. This is about creating good solutions for our customers. And we are still developing a lot of our own technology ourselves, because it gives us a lot of advantages. It allows us to develop things quickly, and of very high quality," says Karl Inge.
When technology meets tradition
He goes on to say that one of the characteristics of the Hatteland group and the RamBase team is that they're always on the hunt for those who want to go the slightly unusual ways. They want to create solutions that are good so that customers will simply love using the system.
"The most important thing is to have meaningful task. And I think most of us at RamBase will say that we do. We are working on something quite special. And as a company, we depend on every individual to help pull the load," says Karl Inge.
Most importantly, as part of the RamBase team, you get to take part in an exciting journey. From developing a product and then bringing it out into the world. In addition, you become part of a company that still has an entrepreneurial spirit. Spirit that extends all the way back to Hatteland's start.
"We go our own ways, we do things that are a bit crazy, and we develop something that we ourselves think is very cool. It also creates stimulating professional tasks for everyone involved," says Karl Inge. "We are looking for those who really want to put their soul into this."